supply artists
SOREN JAHAN
Soren Jahan's love of music began at an early age. When he was just a few years old, he was exposed to the work of Tangerine Dream, Kitaro and endless reggae music through his father's extensive tape and vinyl collection, and felt his imagination captivated in ways he could not explain or understand. He pictured vast landscapes, colors, and felt emotions completely apart from his everyday experiences. Ever since those days, he has sought to rediscover that sense of wonder, of being completely filled and inspired by (electronic) music. After ten years of classical and flamenco guitar, he put down the 6-stringed instrument after realizing that it was not for him.
He entered the world of audio production through very early experiments (in failures) in Reason, struggling for many years to walk the line between personal expression and accessibility. After six years of these experiments, he entered in a production contest put on by the newly-formed TOGETHER Music Festival in his hometown of Boston. His dark and driving techno track made an instant impression, and won him runner-up and hundreds of dollars' worth of prizes. He also spoke with his first online label and realized that he could actually build an audience for his unique brand of electronic music. At this time, he also reached out at his university and began to build a following there, spinning his hard-won vinyl records in underground parties lasting until the morning and dodging police shutdowns. DJ'ing parties every weekend, sometimes three in a row, let him hone his mixing skills and reach a new level of expression far beyond just mixing one track into another.
More recently, he has formed a production duo with fellow Boston DJ John Barera and has enjoyed his first taste of hardware in the form of a Juno 106. This duo is strictly business; they seek to make house and techno bangers straight for the dancefloor, and inspire Soren to put a harder edge to his more experimental, dubby influences. In June 2012, working under the name René Audiard, Soren released his debut album, Pechorin. These days he is a label manager at Supply Records and Blank Slate and based in Berlin, Germany, where he also works on a project called Düve. He has released music on Supply, Blank Slate, and The Double R.
SOREN JAHAN APPEARS ON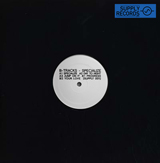 | | | | | |
| --- | --- | --- | --- | --- |
| / / Supply Records / / info [at] supplyrecords.com | | | | |